Documentation
Nanne Ottema's writing
Nanne Ottema was a prolific writer about wide ranging subjects such as arts, arts and crafts, cultural heritage and culture. His numerous newspaper articles, contributions to specialist journals and books have now all been included in the database and are digitally accessible (see Ottema bibliography [Dutch only]).
Now follows a page from: Ceramics/earthenware used in Friesland during the last Quarter of the 16th century. De Vrije Fries XXVI, 1918, pp 63-112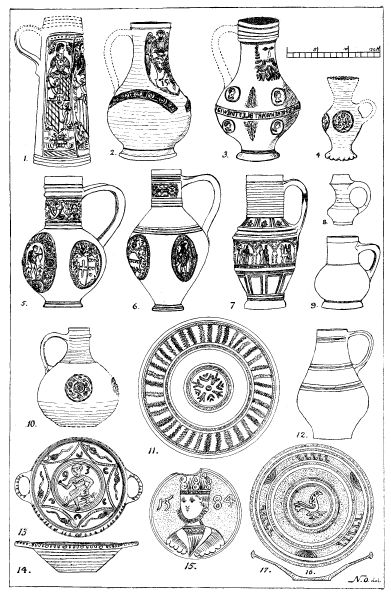 The OKS-Library
The OKS-Library is also kept in the Princessehof, Nanne Ottema's collection forming the core of this very extensive, high-quality, specialized library with its emphasis on books about ceramics. After Ottema's death in 1955 the OKS has steadily expanded the collection; a few years ago about one third of this collection was given to Tresoar and long before that the Fries Scheepvaart (= maritime) Museum in Sneek received a few titles. At the moment the library contains approximately 15,000 books, which can be consulted at Tresoar, the repository of the history of Fryslân, in Leeuwarden.
Not only books on the material, technical and stylistic aspects of ceramic objects are collected, but the library also focuses on the historical, social and cultural context of the place and period in which these objects were made.
The OKS Collection
Our collection consists of approximately 30,000 cultural heritage objects which are loaned to 34 institutions.
Contact
Secretariaat Ottema-Kingma Stichting
Harlingersingel 23-A
8913 CJ Leeuwarden

Visitors by appointment only
Contact us